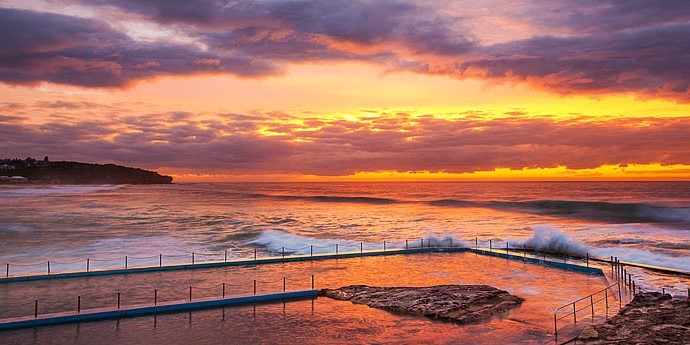 Curl Curl better known as 'Curly' is a suburb of the Northern Beaches and is located 18 kilometres north east of the Sydney central business district and Warringah Council is the local government.
History of Curl Curl
Curl Curl may be derived from the Aboriginal phrase 'curial curial', meaning river of life. Curl Curl Lagoon separates Curl Curl from North Curl Curl and runs into the ocean at Curl Curl Beach. Curl Curl Beach runs along the eastern border and follows onto North Curl Curl Beach and is one of the top spots for surfing.
North Curl Curl's original lure was its lagoon and beach. The beach is safest and most attractive in the northern corner during summer and is popular with families. North Curl Curl Surf Life Saving Club was founded in 1922 and is a volunteer community service patrolling from September to April each year.
Area Statistics
Curl Curl is approximately 1 km² and is serviced by 3 bus routes 136: Manly to Chatswood; 139: Manly to Warringah Mall; E65: South Curl Curl to Sydney CBD.
Recreation & Sport
There are three parks in Curl Curl – Weldon Park, Adam Street Ground and Richie Roberts Reserve. Richie Roberts Reserve is a popular spot for locals to walk their dogs along next to Curl Curl Beach. Weldon Park is a sporting ground for netball, bowls and other sporting activities.
South Curl Curl Surf Life Saving was established in 1918 and has volunteer lifeguards patrolling Curl Curl Beach from October to April each year.
Stewart House is located on Carrington Road across from South Curl Curl Beach. It is a hospital, a charity and a school. It provides students with an opportunity for a break from their current circumstances. Over the years, more than 150,000 children have benefited from a stay at Stewart House.
Harbord Bowling Club is nestled in the back streets of Curl Curl opposite John Fisher Park & Weldon Park. It has a strong membership of locals and often holds tournaments. With substantial parking, a large open room and quality food and wine packages, it is popular as a function venue for celebrations, corporate bowls events days and weddings. It is also a popular spot for the locals to catch up and have a good feed.